BOARD CERTIFIED ORAL SURGEON
RAMSEY M. FANOUS, D.D.S., MBA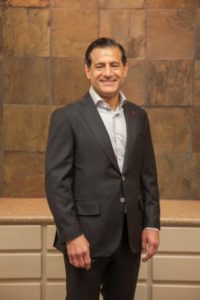 Dr. Fanous has been practicing Oral & Maxillofacial Surgery since 1995 and takes great pride in his highly professional surgical team.  Quality patient care is his number one priority.
Dr. Fanous received his dental degree from Baylor College of Dentistry in 1990 and completed his residency in Oral & Maxillofacial Surgery in 1995 at The Medical College of Wisconsin. He is certified by the American Board of Oral and Maxillofacial Surgery and is a Fellow of the American College of Oral and Maxillofacial Surgeons. He has held positions on committees on a national level with AAOMS, as well as serving on the board of the Texas Society of Oral and Maxillofacial Surgeons, and is a member of the TDA as well as the ADA.
Dr. Fanous was Adjunct Clinical Professor at Baylor College of Dentistry from 1997-2010. He was also involved in residency training at Baylor University Medical Center until 2011 and has been in charge of the maxillofacial trauma surgery division at Medical Center of Plano, a level II trauma center in the Dallas area.
Dr. Fanous has been performing the HealthBite Smile in a Day procedure since 2010 and has done more than 200 of these life-changing procedures.  Dr. Fanous received a M.B.A. from University of North Carolina's Kenan-Flagler School of Business. Dr. Fanous' passion is to provide his patients with the highest quality care while streamlining his surgical practice with a high efficiency business model and the most current "state-of-the-art" technology.
---
NO TWO PATIENTS ARE THE SAME.
NO TWO TREATMENT PLANS ARE THE SAME.
---
OUR SURGICAL STAFF
The surgical staff at Caprock Oral and Maxillofacial Surgery are experienced, registered oral and maxillofacial surgical assistants and certified surgical technologists who assist in all surgeries.  Our staff is trained in assisting with Intravenous (IV) sedation or outpatient general anesthesia in our state-of-the-art office setting. Patients are continuously monitored during and after surgery.  All staff are informed administrative personnel, well versed in health and insurance policies, and are CPR certified.